Today global capital markets opened to unprecedented price dislocations. ZeroHedge captured the mood: "Panic Purgatory: Oil Crashes to $27%; S&P Futures Locked limit Down, Treasuries Soar Limit Up Amid Historic Liquidation." Over the recent months I've posted many articles on this blog and on SeekingAlpha, basically along two themes:
1) Warning that the markets would experience great turbulence in the near future (see here: "Perfect Storm Gathering…" and
2) Suggesting that the best way to navigate through the storm is by using high-quality systematic trend following strategies (see here, "Trend Following Might Save Your Tail").
It may be that the time of reckoning has begun But if you followed my advice and used systematic trend following, most likely you'd be having a good day today. The chart below illustrates the net positioning of my 493 I-System strategies at market open this morning:
If you have not started implementing your contingency plans, begin today. We saw how the bursting of Japan's "everything bubble" went (see here). Stop the guesswork, decisions-by-committee, and most importantly, don't panic. Keep calm and use I-System Trend Following.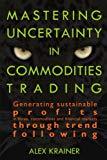 Alex Krainer (xela.reniark@gmail.com) has been actively trading commodities for over twenty years. He currently works as systematic trading advisor for London and Monaco based Altana Wealth Ltd., an independent $300 hedge fund firm. In 2015 he published the book "Mastering Uncertainty in Commodities Trading" rated 5-stars on Amazon (ratings are few but genuine, from readers).